Inquisitive Leadership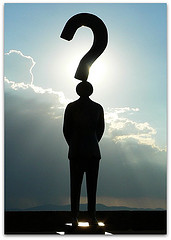 "The important thing is not to stop questioning… Never lose a holy curiosity. "
-Albert Einstein
"Asking questions often separates successful people from those who are unsuccessful. Why? Because you only get answers to the questions you ask. No questions-no answers."
-John Maxwell
Photo Link https://www.flickr.com/photos/cristinacosta/4304968451/sizes/s/
Photo License https://creativecommons.org/licenses/by-nc-sa/2.0/legalcode
What is an Inquisitive Leader?
Pastor Clarke says, "An inquisitive leader asks more questions than average leaders ask, make better decisions than average leaders make, and achieve greater results than average leaders achieve."
If we deliberately heighten our curiosity, ask the right questions, get the best answers and implement them, and continue that cycle, we can lead others to world-changing discoveries that make an immeasurable impact.
Inquisitive Leadership significantly impacts five areas:
Personal Development

Performance Improvement

Decision Making

Problem Solving

Emotional Wellbeing
The Inquisitive Leader
Inquisitive Leaders are investigative. They guard against poor decision-making and faulty assumptions by asking questions so they are empowered to make the best possible decisions in the situations they face. Here are ten characteristics of inquisitive leaders.
1. Decisive
Inquisitive leaders are not indecisive. Although they take as much time as possible to investigate issues, ponder possibilities, and ask various questions, they still make great decisions in a timely manner.
2. Insistent About Accuracy
Inquisitive leaders insist on being fed accurate information so they can make great decisions. The people around them understand how important it is to not take things for granted or make assumptions when relaying information that influence decision-making.
3. Committed to Prayer
Prayer opens the door for the Lord to release understanding desperately needed in order to make decisions that please Him. Inquisitive leaders pray without ceasing to seek the Lord for guidance.
4. Patient
Although a sense of urgency is critical in order to lead change, inquisitive leaders are comfortable leveraging time in their decision-making processes. "Living and leading with an inquisitive spirit can help us slow down and gather critical facts necessary for making the best decisions as leaders." -from my book, Are There Any Questions? Living and Leading with an Inquisitive Spirit
5. Relentless Soul Searchers
Inquisitive leaders are courageous enough to ask themselves tough questions, especially in tough times. Their determination for the best possible outcomes in all situations prevent them from leaving themselves out of the equation for how things are going whether awful or awesome. They are very reflective and live and lead with a heightened self-awareness.
6. Committed to Continual Improvement
Continual improvement is not inevitable. It takes hard work and incredible initiative to pursue and achieve it. The inquisitive leader must constantly ask, "What skills do I need to improve and how can I help those around me get better as well?"
7. Committed to Continual Learning
Inquiry keeps the door open to continual learning. It positions the leader for great insights that usher in knowledge that renews the mind and transforms their life and leadership abilities.
8. Looking for Stories
Stories are the backgrounds of the people we serve with. They include life's highs and lows, successes and failures, and victories and defeats people have experienced that have influenced how they think, work, and live. Inquisitive leaders seek to know their people. So, they spend time with them listening for their story. This is time well spent!
9. Great Listeners
Many teams and organizations have met their demise because of a leader somewhere who would not listen to those around them. Inquisitive leaders are courageous enough to handle the truth no matter where it comes from. "Courage is what it takes to stand up and speak, courage is also what it takes to sit down and listen." -Winston Churchill
10. Great Thermostats
Just as thermostats set the temperature in a room, leaders set the atmosphere in which their people perform. The inquisitive leader is constantly asking how they can personally elevate morale and empower people to perform at their peak.
Conclusion: I encourage you to ask more questions. Nurture that spirit of inquiry you were born with and get the best answers at your disposal. You and those around you will soar to unprecedented levels. It's working for me and I'm sure it will work for you as well. Be encouraged & enjoy the journey!!!