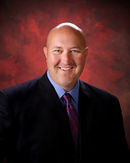 We welcome guest blogger, my friend and brother in Christ, Lt.Col. Danny White (USMC ret.). Danny, a husband, dad, professional speaker, author, and blogger shares a powerful testimony and challenge for all of us who want to lead and make a difference.
Is there a day along your leadership journey that stands out as a milestone-a day that perhaps only you know about and no one else? I'd like to share with you about one such day along my journey-a day that changed my life. A day when my path entered the desert, and I saw firsthand the difference positive leadership makes.
Many people talk about the expression "Leadership makes a difference" as only a "nice" saying or thought. However, leadership did indeed make a difference-in fact it threw me a lifeline of hope to continue along my journey.
During a December 1997 military move from Bridgeport, California, to Fort Leonard Wood, Missouri, I watched my pregnant wife Jenny and five-year old son Danny die in a single-vehicle accident.
My squared away world came crashing down around me as reality hit-now I was an instant single parent to a three-year old daughter and a nine-month old son. What do I do? To whom do I turn? How can I keep going?
After leaving the emergency room and checking into a Kingman, Arizona, hotel room, I answered the ringing telephone. I was amazed to hear the Commandant of the Marine Corps (a four-star general) speaking words of condolence, encouragement, and assistance. General Charles C. Krulak assured me that the Marine Corps would help me in any way possible. This was the equivalent of the CEO of a 175,000-person organization picking up the phone and calling a hurting employee going through a tragic situation.
After the funerals, I expected to get my "pink slip" from the Marine Corps since I now was a single parent and seemingly would no longer be of value as a combat engineer and being expected to deploy. To my surprise, General Krulak, through his staff, let me know that I could remain on active duty if that's what I wanted to do. In fact, they assured me that if my request were at all reasonable, I could choose my next assignment. Or if I wanted to resign my commission and get out of the Marines, they would help me with that as well. I was stunned that the Corps would help me like this.
I chose to continue serving on active duty and completed over 21 years of service in June 2012. The rest of the story is told in A Widower's Walk: from Desert to Destiny.
Oftentimes, I've wondered if General Krulak hadn't freed himself from the burden of busyness in order to take time to call me, what path would my journey have taken. The General didn't allow his "to-do" list to outweigh making a phone call to check on one of his Marines.
So would you have called Captain White-a stranger and fairly junior employee-that December day? I hope that you will consider this story and be prepared to make such a call for someone on your team, if heaven forbid, he or she faces a tragedy. You likely will make a huge positive impact on his or her journey.