With Thanksgiving right around the corner, I want to encourage everyone to give thanks daily, especially folks who are trying to reach new levels of living in Christ.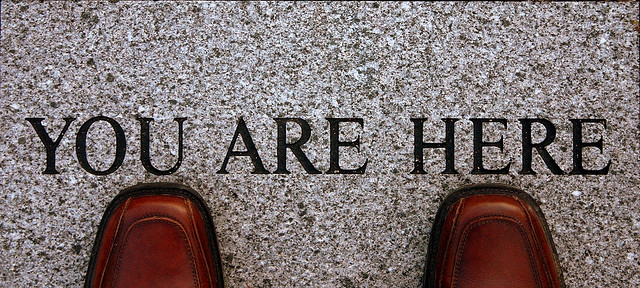 Having a habit of daily thanksgiving keeps us growing and going. It empowers us to enjoy the process of getting there-that place where we have reached our goals. In his book, Happier, Tal Ben-Shahar, Ph. D., says,
"We learn to focus on the next goal rather than on our present experience and chase the ever-elusive future our entire lives. We are not rewarded for enjoying the journey itself but for the successful completion of a journey. Society rewards results, not processes; arrivals, not journeys."
As I journey to there, I want to express how grateful I am to be here. I'm glad to be where I am as I process toward bigger and better things. Don't get it twisted-I'm not saying everything in my life is perfect. I still deal with things that can frustrate me, but I'm not going to allow myself to miss out on being as fully present as possible and smelling the roses along the way.
Dreams
Being grateful for here does not mean I am not allowed to look down the road and dream of that place called there. We need dream-scenes of what there will be like. Dreams of a better tomorrow can give us hope and keep us moving forward through today's difficulties. We should continually imagine what life will be like when we get married or have children or own our own home(s) or graduate from school or get the dream job or retire or other wonderful stuff like that. The Bible encourages us to dream and imagine the awesome future God has for us.
Paul shared God's revealed scene of Jesus' return (I Thess. 4:13-18) and exhorts us to encourage one another with the same type of talk.

Peter speaks of what God has for us down the road when he spoke of an inheritance reserved for us (I Pt. 1:3-6). We are to rejoice now despite any adversity we may face because the dream of being in heaven is to give us joy unspeakable and full of glory.

John talks the same way in I Jn. 3:1-3 when he shares the dream scene of our being just like Christ when He appears. In the third verse of that chapter, he tells us to purify ourselves as we await the manifestation of the dream. Dreams of bright tomorrows shed light on how we are to behave today.
Never stop dreaming! Never!
Discipline
If you can imagine the next level of your life it should empower you to do what must be done in order to get there. It should also empower you to avoid what can derail you and keep you from getting there, too. This is what discipline is all about. Just as sports has out-of-bounds, discipline gives us boundaries, too. Simply put, there are some things in life that are out-of-bounds. Maintain values, ethics, and a God-glorifying work ethic.
Discipline and dreams go hand-in-hand. One translation of the Bible has Proverbs 29:18 reading,
"Where there is no vision, the people are unrestrained, but happy is he who keeps the law."
Discipline is so important to God, He told Joshua to meditate on God's Word day and night so that he would do what it told him to do (Josh. 1:8). Too many never make it there because they lack discipline here. Exercise discipline with your
Thinking. Have your thoughts or your mindset contributed to where you are right now? For many of us, the answer would be, "Yes". Be disciplined in your thinking.

Stay away from "stinking thinking". Consider and a

ppreciate the advantages of where you find yourself today. Ponder your possibilities. Continually develop your mind so your thinking gives you momentum.

Current opportunities. Use them to prepare for anticipated future opportunities.
Personal development. Here is always a great place for you to work on you! If you don't like where you are, don't become bitter. Become better!
Words-especially when you're angry. Words, whether written or spoken, need to propel you to the top rather than push you to the bottom. Be disciplined with your words.
Diet. Take care of your body here and get there in good health. You'll be glad you did.

Sex.

Countless careers have, regrettably, come to a screeching halt due to sexual indiscretions.

Power. Don't abuse it. Control yourself and gain greater levels of influence.
Time. Be disciplined with your time. Set goals and create action steps to reach them. Surround yourself with driven, goal-oriented people who hold you accountable and help you move forward.

Don't waste time mulling over the woulda coulda shoulda or anything else that robs you of joy, peace, and momentum. Eliminate time wasters.

Don't make excuses. Make things happen.
Finally
I'm in a good place headed toward a better place. I'm grateful. I hope you are, too. Never stop dreaming. Exercise discipline as you journey toward destiny. Keep growing. Keep going. Be grateful for where you are and enjoy the journey toward where you're going.
photo credit: gomattolson via photopin cc