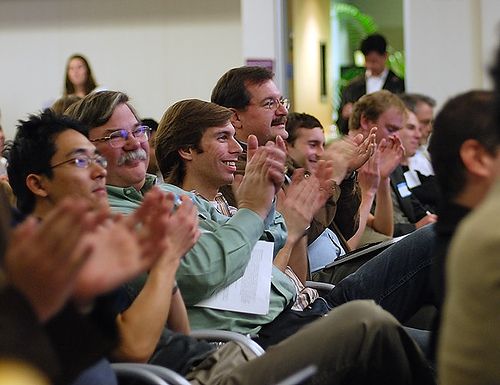 7 Keys to Effective Ministry Meetings
By Pastor David Anthony Clarke, Sr.

Have you ever had your time, energy, and spiritual gifts seemingly wasted with ineffective ministry meetings? I've had some hum dingers in my day. I've even had to abruptly end a church meeting because things had gotten out of hand. It was awful. That was then. This is now. Things have changed when it comes to our church meetings. Here are seven keys to eliminate wasteful meetings and make them the bomb.com!
1. Use the meetings as building blocks for the vision of the ministry.
My desire is that every gathering works toward manifesting the vision for Union Grove. Every rehearsal, worship experience, Bible study, quarterly church meeting-yes, we have congregational meetings once a quarter-is to work as a building block to make the vision come to fruition. Use your meetings to make the vision for your respective ministry a reality by sharing teachings or facilitating discussions on required reading. This helps everyone on your ministry team to keep growing and become and accomplish what the Lord has ordained. It has enhanced the culture in our church immensely.

2. Use the meetings to develop trust.
Allow for questions and candid discussions on sensitive issues. Be honest in the answers you provide. Don't give people the run around! Admit whenever you drop the ball and apologize when necessary. Demonstrate you care about what's on people's minds especially when there are concerns pertaining to money. I have used some of our meetings simply for Q & A where I received questions in advance and provided a presentation with the answers. This has helped breed trust, which is one of your most powerful tools in your leadership toolkit.

3. Use different things to lighten the mood.
We've used music, skits, and humor to lighten the mood and dissipate the tension that once dominated the atmosphere in our congregational meetings. Lighten the mood of your meetings so people can relax and gel with one another. Doing this over time has made an incredible difference in the atmosphere for our church business meetings. This helps ministry teams, too, by making them more effective and creative as they work well together and also serves as a great recruiting tool.

4. Make meetings very informative.
Providing updates, reports, teaching and vision casting all serve to make ministry meetings very informative and productive. Stay away from gossip, complaining, and chatter that simply wastes time and does not glorify God.

5. Start and end on time
Starting and ending meetings on time is one of the greatest tools to use to keep people coming to the meetings.

6. Implement different control measures to keep things orderly.
People need to be free to talk and express themselves, but with love, discipline, and respect. Disagreements happen, but let's watch what we say and how we behave. There are plenty Scriptures that speak of self-control, watching our mouths, and how to resolve conflicts with one another. It is up to the leader to implement control measures or boundaries that allows for everything to be done decently and in order. This does not mean that adults are to be treated like children. Amen! Boundaries are necessary in all aspects of society in order for all of us to live at peace with one another. One of the control measures I implemented for our congregational meetings is that we do not discuss anything that is not on the agenda. This helps prevent plots, attacks, or accusations that can blindside me or any other leader in the church. If you have "Misc." in your agenda for your congregational meetings you may want to delete it.

7. Deliver dynamic presentations.
Presentations delivered in meetings can make or break a team. I've seen ideas shot down not because they were bad ideas, but great ideas poorly presented. Hone your presentation skills by paying attention to the questions your team tend to ask and do the best you can to anticipate the questions they might ask as your prepare your presentation. Answer those questions in your presentation and it can invite the support you may need from your team as you move forward in the Lord's work. Deliver your presentation with passion, humility, humor, and God's Word and it can make the meeting one that people are glad they did not miss.


Conclusion: Church meetings have helped transform our church over time. I pray your ministry meetings will continually move your ministry forward into God's ordained destiny. Enjoy the journey!
Photo credit:
https://creativecommons.org/licenses/by-nc-nd/2.0/legalcode